Our Mission
The Catholic cemeteries of the Diocese of Grand Rapids are called to bury our loved ones in accordance with the teachings of the Catholic Church. We dedicate ourselves to the sacred religious function of the burial of our dead. We are committed to prayer and devotion for our deceased brothers and sisters. We proclaim through our words, work and example, the sacredness of the human body, belief in the resurrection of the body and everlasting life.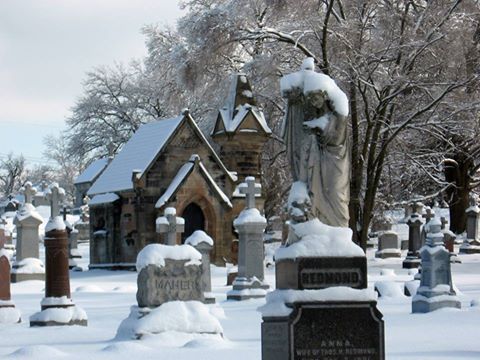 Winter cemetery decorations
For unto us a child is born.  Merry Christmas to all!
Our winter decorations are now allowed at all of our cemeteries.  Wreaths on a tripod stand are allowed at each cemetery.  Please note that wreaths are the only decoration allowed at Resurrection Cemetery during the winter. Wooden crosses are allowed at Holy Cross, Mt. Calvary, St. Andrew, & Ss. Peter & Paul.
The wooden cross must be purchased through the office at Holy Cross.
All decorations that are not within the guidelines will be removed and disposed of.  Please help us to keep our cemeteries clean.
View All Announcements
Take a Virtual Tour of the Grounds
We have five lovely cemeteries that you can tour any time during the day. Please stop by and visit.